PCI RadioLink brings a new dimension of music and information to your desktop. Itís unique design ensure optimal reception quality and compliments your PC's sound card.
The PCI RadioLink's on-board radio tuner utilizers PLL digital synthesizer tuning and a Dipole antenna for excellent reception and highly precise station setting - in steps of 50kHz.
Fully software-controlled, the PCI RadioLink features 20 user-definable station settings. One click of your mouse and you can tune into your favourite station. You can also use the Alarm and Sleep functions to turn on and turn off specific radio station on preset time. Since RadioLink is compatible with all sound card, you can also record your favourite radio program.
(A) Specifications:
Frequency range : VHF Band II (88MHz to 108MHz)
Antenna impedance : 75 o hms
Dipole antenna to improve reception in PC
User-friendly GUI provides ease of tuning
Auto / manual station scan with 50kHz precision
20 preset stations / user selectable
(B) System Requirements:
Alarm & sleep function allows you to turn ON/OFF your desired radio station at a specific time.
IBM PC or 100% compatible computer
Free PCI Slot
Intel 486 CPU & above
Windows 95, Windows 98, Windows 2000, Windows NT 4.0 or Windows ME
2MB of available hard disk space
Amplified speakers or headphone
CD-ROM drive
Optional: Sound card (for recording)
(C) Bundle Softwares:
RadioAKTIV Navigator (WIN95/98/NT/2000/ME/XP):




RadioAKTIV features 20 user-definable station settings for you to tune into and lock in your favorite stations for total convenience. And auto station scanning in addition to the conventional manual tuning. For precise tuning, it allows fine tuning at 50 kHz resolution.

RadioAKTIV includes handy Scheduler: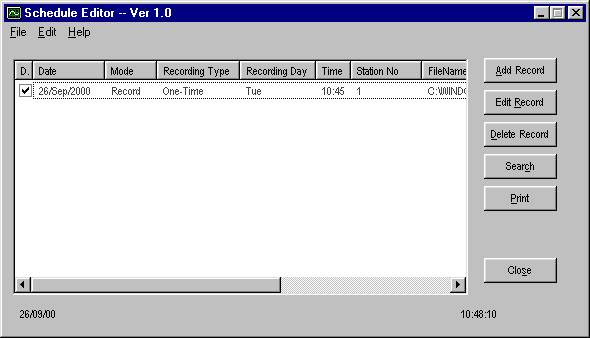 The Radio Scheduler schedules tasks for a radio program. It takes in inputs from the user and writes to the registry. When a scheduled task hits the clock , the scheduler will launch the radio program.
(D) Package Contents:
- 1 x CD Software
- 1 x PCI RadioLink Card
- 1 x Line-out Cable
- 1 x Dipole Antenna Cable
- 1 x User Manual
| | | |
| --- | --- | --- |
| | | |
| Package Contents | Radio Card Closed View #1 | Radio Card Closed View #2 |