The Mediaforte Quad X-Treme 256R 4-channel sound card is an explosive treat that breathes life into your games - with 256 voice wavetable synthesis surrounding you with 2 pairs of front and rear speakers channels
The effect is so distinctively REAL that you can react to gunshots coming from behind. It is compatible to Microsoft Windows, Microsoft DirectX, EAX and DOS games and supports on DirectSound, Wavetable and Direct3D positional audio which surpasses the PC 98 standard for audio quality.
The Quad X-Treme 256R is thus the most cost effective, practical, sound solution with the essential features of today's game requirement. It is the real solution for REAL sounds
Add to the amazing list of features, the Quad X-Treme 256R is also integrated with high precision digital FM Radio Tuner. Enjoy your favorite radio stations or use it like a radio clock.
(A) Features :
AUDIO FEATURES
Audio Features 32 Bit PCI Bus Master, PCI 2.1 compliant
Fully Plug and Play compatible
Sound Blaster Pro compatible
Roland MPU 401 (UART mode) compatible
Supports Windows 95, Windows 98 and Windows NT 4.0
Supports multi-channel EAX games, with 4-channel speaker output
256-voice wavetable synthesizer
Effect synthesis with reverb, chorus, flange, echo on all wave and MIDI playback
Supports positional 3D audio and reverb under DirectX 5.0
Incorporates Q3D 2.0 Qsound Technology
AC '97 Codec with 48Khz sampling rate
Built-in MIDI Port and Joystick Port
RADIO FEATURES
Frequency range: VHF Band II (88-108 MHz)
75 ohms Dipole Antenna to improve reception in PC
User-friendly GUI provides ease of tuning
Auto/Manual Station scan with 50 KHz precision
Alarm & Sleep functions to turn on/off to specific station
20 Preset Stations / User selectable
Program in background allows you to listen to your favorite station in the background even while working on other programs
Radio recording and playback
SPECIFICATION
PCI BUS MASTER INTERFACE
Insures low system overhead for audio data transfer Plug-N-Play compatible
32-bit PCI Bus Master, PCI 2.1 compliant Compatibility
Sound Blaster Pro, Roland MPU401 (UART mode)
Microsoft Direct Sound and MMSystem support
Microsoft Windows 95, Windows 98 and Windows NT 4.0
Microsoft Windows Sound System
Support Adlib Music Synthesizer, Real DOS Sound Blaster Pro
Multi-channel EAX games support
AC97 rev2.1 and PC98 compliance
Plug-and-Play compliance Wavetable Synthesizer
20-Voice, 4-operator music synthesis HW with 20-Voice, 4-operator music synthesis hardware with professional 64-Voice Software wavetable for Symphony quality Sound in Games and Music
Programmable pan, tremolo, vibrato, rate conversion and tone filtering per voice
With a 256-voice software wavetable
Fully compliant to General MIDI
EFFECTS SYNTHESIS
Advanced audio effects such as reverb, chorus, flange, echo on all Wave and MIDI playback
DIGITAL AUDIO
Support DirectSound and DirectSound 3D games in Windows 95 and Windows 98
Record, compress and playback 16-bit digital audio in stereo/mono
<0.5% PCI Bus Bandwidth for Playing 16-bits/stereo/44.1kHz
Enable Interpolate Sample Rate Conversion to improve the quality of sounds that are converted to different samples rates and Doppler effects
AUDIO QUALITY
Low Signal-to-Noise ratio with superior split Digital/Analog implementation
High-quality AC'97 codec with 48kHz sampling rate
Full-duplex operation for simultaneous recording and playback
POSITIONAL 3D AND EAX™
Experience dynamic 3D positional audio under DirectX™ 5.0 or later on all Microsoft DirectSound3D
Hear sound above you, below you and approach you from every direction in 4-channels
Q3D 2.0, QSound Technology, Inc. uses reverb to enhance the qualities of the surrounding environment
Enable Reverb supports games taking advantage of Creative's EAX™ Environmental Audio Extensions™
Select default environment to preset to your personal preference for non-EAX DS3D game titles
ANALOG/DIGITAL MIXER
7-channels record source and playback mixer with stereo inputs for Line, CD-audio, Music Synthesizer, Auxiliary input, Video input and mono inputs for Phone, PC speaker and Microphone
Selectable mixing of input sources for recording and playback with programmable volume controls
Mixer-controlled record and playback with 32 steps logarithmic master volume control
MIDI / JOYSTICK INTERFACE
Roland MPU 401 (UART mode) port with FIFO emulate for Sound Blaster MIDI port
Standard PC joystick interface
DOS GAME COMPATIBILITY
Complete Sound Blaster Pro game compatibility over PCI bus using PC/PCI DMA, and Distributed DMA, Serial IRQ
Support Real DOS games in DOS mode or DOS box on all Pentium and Pentium-II machines
INTERNET
Full-duplex support for InternetPhone and Microsoft NetMeeting for two-way conversation on the Internet
(B) System Requirements:
IBM® PC or compatible Pentium® with CPU 133 MHz or equivalent
16MB of RAM (32MB if software wavetable 4MB sound library is used)
Microsoft Windows 95, Windows 98 or Windows NT4.0 or MS-DOS 6.0 or higher
Approximately 16MB of space on your hard disk
CD ROM drive
VGA monitor
Microsoft DirectX version 5 or later
One pair of powered stereo speakers or headphones
Second pair of powered stereo speakers that give four channels "QUAD" mode for additional 3D sound immersion. (Optional)
(C) Bundle Softwares:
The SF256-PCPR PCI sound+radio card is bundled with a few software applications as listed below:
EzAudio AudioRack Application (Win95/98/NT)
EzAudio is a simple audio rack application for playback of audio CD, MIDI and WAV files. You may also use the EzAudio to record WAV files.
Yamaha Soft-Synthesizer Application (Win95/98)
Yamaha SoftSynthesizer™ S-YXG50 allows you to play back MIDI files on your computer without using a hardware tone generator. Its high fidelity sounds, match the sounds from an authentic tone generator, are based on and realized by advanced MMX technology. The S-YXG50 transforms your computer into a music synthesizer.
RadioAKTIV Navigator (WIN95/98/NT/2000/ME/XP):




RadioAKTIV features 20 user-definable station settings for you to tune into and lock in your favorite stations for total convenience. And auto station scanning in addition to the conventional manual tuning. For precise tuning, it allows fine tuning at 50 kHz resolution.

RadioAKTIV includes handy Scheduler: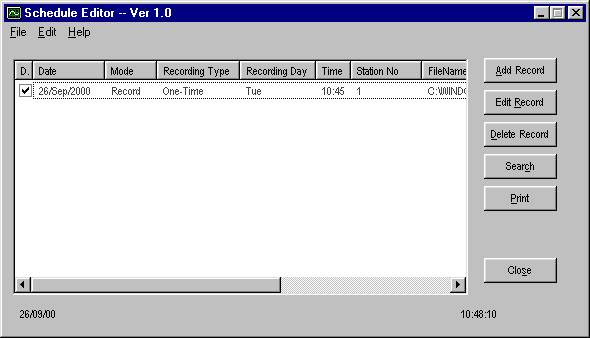 The Radio Scheduler schedules tasks for a radio program. It takes in inputs from the user and writes to the registry. When a scheduled task hits the clock , the scheduler will launch the radio program.
(D) Package Contents:
- 1 x CD Software
- 1 x Quad X-treme Radio 4 Channel Sound Card
- 1 x Dipole Antenna Cable
- 1 x User Manual
| | | |
| --- | --- | --- |
| | | |
| Package Contents | Radio Card Closed View #1 | Radio Card Closed View #2 |